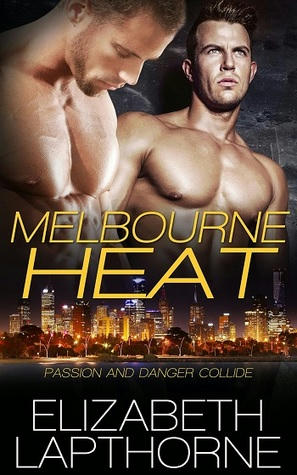 Title: Melbourne Heat
Author: Elizabeth Lapthorne
Genre: Paranormal, Shape shifter,  BDSM
Length: Novella (103 pages)
Publisher: Pride Publishing (8 Dec 2015)
Heat Level: Explicit
Heart Rating: ♥♥♥ 3 Hearts
Blurb: In the steamy Melbourne summer nights, two men meet by chance in the Botanical Gardens.
Spencer, against his better judgment, agrees to meet a new client in the Botanical Gardens. While waiting, he bumps into Charles, who is out paintballing with some mates. Spencer agrees to have a quick bite to eat with Charles, not knowing the sequence of events that will unfold from such a simple action.
Charles is a shifter with plenty of secrets and Spencer has unwittingly brought someone else into the mix—another shifter, eager to stake his claim. Even after such a short time, Charles can't imagine giving Spencer up. He's willing to fight for what's his. Spencer has also found himself falling in love with Charles, despite the secrets that surround him. Passion and danger collide and soon both men will have decisions to make. Ones with serious consequences.
ISBN: 978-1-78430-880-3
Product Link: https://www.pride-publishing.com/book/melbourne-heat
Reviewer: Prime
Review: As an Aussie, anything set in Australia I am going straight to, particularly when it is a shifter romance. Melbourne Heat is a sexy paranormal romance set in the titular city where Spencer, human, meets Charles, a shifter, by chance at the Melbourne Botanical Gardens. For fans of the paranormal/shape shifter genre this is a fairly satisfying and quick read.
The use of the Australian slang was pretty good, though I have to say there were a few errors that may bug other Aussies, but on the whole it was comforting and amusing to see my kind of "speak" in a MM romance. In fact, there is the amusing misunderstanding between Charles and Spencer when Charles is trying to explain that they are mates, as in "soul mates". Needless to say Spencer at first think Charles is saying mates as in "friends". Doctor Who fans think of the Donna Noble telling Ten "you're not mating with me, sunshine" but in reverse.
The sexual tension and attraction between Spencer and Charles is great. Fans of BDSM books just need to know that although there is the warning of bondage, there is very little actual BDSM and it is very light because the BDSM is not an important aspect in the relationship between Spencer and Charles. However, unfortunately this story suffers from, really, not a lot of character or story development – which is quite sad because I really enjoyed Lapthorne's writing style.