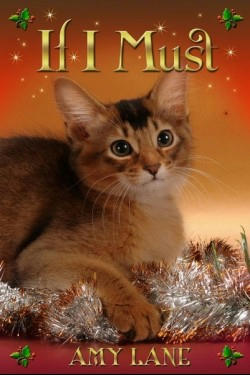 Title: If I Must
Series: Mistletoe Madness
Author: Amy Lane
Genre: Contemporary
Length: Short Story (69 Pages)
Publisher:  Dreamspinner Press (December 2009)
Heat Level: Low
Heart Rating: ♥♥♥♥ 3.5 Hearts
Blurb: Joel Martinez, a practical and organized computer programmer, is roommates with Ian Cooper, a certified IQ-in-the- stratosphere mathematical genius who literally can't find his own underwear in the mess of his day-to-day life. When Joel uneasily leaves Ian for the holidays, he ends up telling stories to his sister and discovers he feels much more for Ian than he thought. So when Ian calls, distraught because the only other thing in his life that loves him (a half-feral cat named Manky Bastard) is going to have to be put down, Joel hurries back home hoping that opposites really do attract.
ISBN:  978-1-61581-337-7
Product Link: https://www.dreamspinnerpress.com/books/if-i-must-by-amy-lane-4197-b
Reviewer: Lisa
Review:  I was going through my library when I came across this story.  I can't believe that I over looked it, because it was a definite fun little book.  The first thing I have to say about this story, is the cover rocked.  That kitten was so damn cute, but the name the guys gave it made me laugh. 
Joel is the perfect roommate with a bit of OCD I would say.  He is good at organizing and well he is going to need it with his roommate.  Ian owns the perfect apartment, is a genius, and has no clue about everyday life.  So you add in one guy who is organized with a guy who has no organization and let's just say the temperature is going to get hot now.
I got a kick out of this but it was a small taste for me.  Although in that small package came a dynamite story with some quirky characters in the mix.  It was fun, cute and downright sassy.  I got a kick out of it and can see myself reading it more than once.