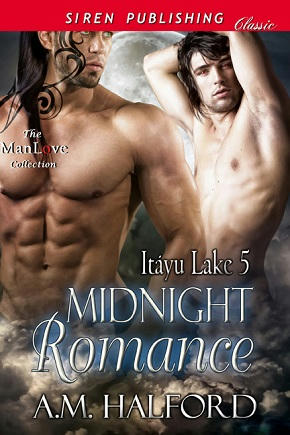 Title: Midnight Romance
Series: Itayu Lake #5
Author: A.M. Halford
Genre: Paranormal
Length: Novella (115 Pages)
Publisher: Siren Publishing  (November 16, 2016)
Heat Level: Low
Heart Rating: ♥♥♥♥♥ 5 Hearts
Blurb:  Adriano has left his coven seeking solace away from the city life—and his cheating ex-boyfriend, Lyle. He comes to Itáyu Lake and discovers a complication he never wanted: Ignacio. Though he never wished to find his mate, Adriano isn't dumb enough to ignore fate.
Ignacio was getting tired of waiting. After months of waiting on this lake, his mate still hadn't showed. A full moon night changes that when Adriano literally drops from the sky and into his arms. He realizes he's got a lot of work to do to convince his mate they belong together, but he's willing to do it.
Instantly, sparks fly between the two. Their relationship is complicated when Adriano's past follows him to Itáyu. In the middle of all this, Hunters have returned to figure out what happened to Butch and what is really going on at Spirit Valley and Itáyu Lake. When Ignacio and Adriano get involved, things turn dangerous—for both sides. 
ISBN: 978-1-68295-598-7
Product Link: http://www.bookstrand.com/book/midnight-romance
Reviewer: Lisa
Review: Each book in the Itayu Lake collection features a new romantic couple. To enjoy the overall story arc and crossover characters, I would recommend reading the series in sequential order.  
 It has been sometime between books and have forgotten how much I truly enjoyed this series.  When a new book comes in, I usually go back and read the series once more to get caught up and sure enough I still found it quite enjoyable.  The play of emotions, the quirky characters and the dangers of hunters are just a bit of what you get into with this book.
Adriano has been dating Lyle for close to eighteen months, but bringing a twink to their bed was the last straw.  So he leaves his coven and almost ends up pancaked or fried.  Yes you have guessed it our sexy man is a vampire.  Thankfully his mate saves his butt and is about to have a fun time.  That is until his goofball ex shows up. 
Ignacio has wanted his mate for some time, and would you look at that.  He just falls from the sky.  However his mate hasn't had the best of luck when it comes to mates.  His father and mother ended their marriage when his father found his mate, and it didn't go as planned.  So he never really looked for his.  Now Ignacio has to show him just how much fun a mate really is.  That is while dealing with hunters and Lyle, of course if you want to know more you're going to have to read the book.  Trust me, you won't regret it.
I enjoyed this story and the play between the characters.  They are a blast to read about and I cannot wait for the next book to come out.  I just hope it is not a really long wait.  Although I was late finding this one so I am off to go check the book store.  It is a fun story and I can guarantee that you will have fun reading it.