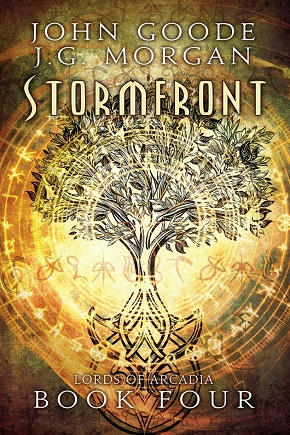 Title: Stormfront
Series:  Lords of Arcadia 04
Author: John Goode & J.G. Morgan
Genre: High Fantasy, Teen Fiction
Length: Novel (254 pages)
Publisher: Dreamspinner Press (February 21, 2017)
Heat Level: Low
Heart Rating: ♥♥♥♥♥ 5 Hearts
Blurb: Sequel to The Unseen Tempest
Lords of Arcadia: Book Four
Kane's ordinary life became anything but when he met his soul mate, Hawk, and was drawn into a world of enchantment with rules very different from the world he left behind. Together, Kane and Hawk are on a quest to prevent the destruction of the Nine Realms, and that means rescuing Hawk's mother and putting a stop to Hawk's father's evil plans.
The end of the journey is within their sights at last, but time is running out. Kane and Hawk's mission to free Titania from the Big Bad Wolf and save Athens from Oberon's wrath will lead them through many different worlds. And their adventure won't end there—they will have to face the one who has been pulling the strings and manipulating the situation all along before the Nine Realms will be safe. It's a journey that will leave them—and everything else—irreparably changed.
ISBN-13:  978-1-63533-277-3
Product Link: https://www.dreamspinnerpress.com/books/stormfront-by-jg-morgan-and-john-goode-8057-b | https://www.harmonyinkpress.com/books/stormfront-by-john-goode-and-jg-morgan-452-b
Reviewer: Shorty 
Review: An epic end to Kane and Hawk's long journey to find the culprits who are hell-bent for more power no matter the cost. I absolutely loved the entire book. I felt as though I was there witnessing everything.
A lot happens that tidies up the previous books while at the same time hinting at another mission for the males. Al the characters I loved throughout the series show up in this one to help with the fight but not without casualties. The battles were intense at times yet at the same time the group splits up to go about different things and of course we are along for the ride.
Adventurous, mysterious, action, drama, fantasy and a whole slew of other genres are all throughout this wonderfully written story. I could not stop reading until the very end. It had me hooked from the first page of the first book and continued well into this story. This is a must read in order series as each book continues where the previous book leaves off.
Highly recommended for all.