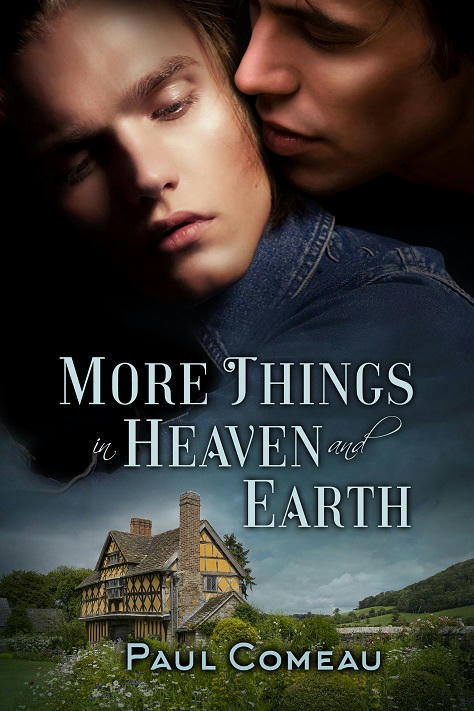 Title: More Things in Heaven and Earth
Author: Paul Comeau
Genre: Vampires, Paranormal
Length: Novel (284 pages)
Publisher: Dreamspinner Press (December 30, 2016)
Heat Level: Moderate
Heart Rating: ♥♥♥♥♥ 5 Hearts
Blurb: When young Danny Crawford's father and a priest conspire to subject him to conversion therapy, Danny only sees one way out. But little does Danny know he'll soon have a sentinel watching from the darkness, a guardian angel in the most unlikely form imaginable.
Damien, a vampire, is inexplicably moved by Danny's plight. He takes it upon himself to make sure Danny's father and the priest can never hurt him again, giving Danny a chance at a normal life. As Danny grows up, Damien struggles to keep the boy—and later the young man—from harm. He does not dare go any further, no matter how much he wants to. To do so would ruin everything he's tried to do for Danny. He doesn't realize that as Danny embarks on a successful modeling career and begins dating, Danny feels empty, longing for something—or someone—just beyond his reach: a shadow, a presence he despairingly believes forever lost to him. 
When brutality and violence threaten Danny again, Damien must make a decision—risk revealing himself to Danny, or leave Danny to his fate..
ISBN-13: 978-1-63533-136-3
Product Link: https://www.dreamspinnerpress.com/books/more-things-in-heaven-and-earth-by-paul-comeau-7939-b
Reviewer: Shorty 
Review: Damien, a vampire, was turned while out one night while leaving the movie theater. He is arrogant, cruel at times and seems only to care about himself. After he was turned he had to learn everything himself as his maker left after the bite. During one of his night hunts, he meets Danny in a hospital. This meeting would change him forever.
Danny is sweet, shy, caring and kind. Unfortunately his father is a man's man and does not tolerate a lot of things. When it comes out that Danny is gay all hell breaks loose in more ways than one. At the end of his rope with nowhere to turn Danny tries to kill himself.
I did not know quite what to expect when I started reading this story but I'm glad I did. Danny's story was heart-breaking. I was so angry at so many characters throughout that had hurt him in some way that I wanted to harm them myself. I hated his father Frank. He seemed like a real piece of work.
Damien was the one who transformed the most as the story progressed. His back story shocked me. It seemed to me these two needed each other in ways the other didn't know. I was glad Damien took it upon himself to make sure the ones who did physical harm to Danny paid for it. I really liked the interactions between Damien and Danny. I liked even more that even though he had feelings for him, Damien "left", he was still around but Danny never saw him, to let Danny live his life until he was older.
The religious aspect of the book had me upset at times as I'm not overly religious myself. Yes I believe in God, Christ and the Devil but what made me mad is Monohan seemed to be evil incarnate. He was in cahoots with Frank about keeping money for himself, sending kids to conversion therapy to change them not to mention what the asshat did to Damien when he was still a human and in the church. He never should have been in any type of position with that kind of power over others. It made me think about all the times I've heard of various church people in trouble with the law for doing something despicable in the news yet nothing being done except the church paying off the families to keep it all quiet.
But aside from that the story was an amazing journey of two men who find each other when they need it the most and watching them overcome any obstacles thrown in their way and persevere. I absolutely loved it and highly recommend it. I will warn people there is mention of rape in this story.