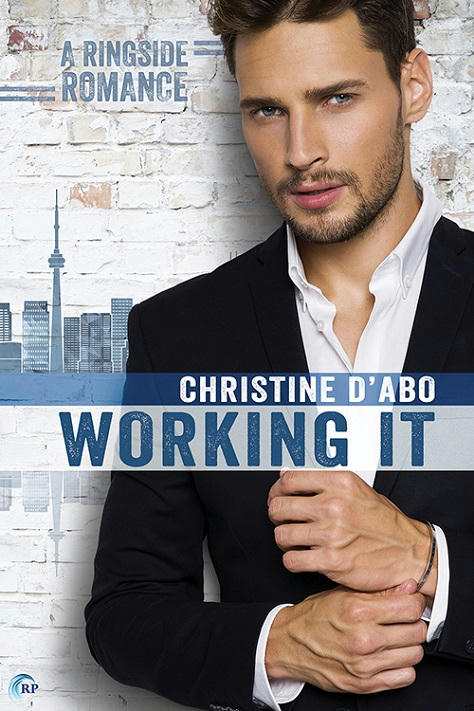 Title: Working It
Series: Ringside Romance #1
Author: Christine d'Abo
Genre: Contemporary
Length: Novel (247 pages)
Publisher: Riptide Publishing (February 6th 2017)
Heat Level: Moderate
Heart Rating: ♥♥♥♥ 4 Hearts
Blurb: Nolan Carmichael is getting a fresh start—new career, new company, new life. The only problem is, he liked his old life just fine . . . until an accident robbed him of his health, his job, his self-confidence, and his ability to go out in public without having anxiety attacks.
Zack Anderson has scared away his last four administrative assistants. So when he hires Nolan on a whim, he's not too worried, since Nolan will be gone within the week anyway. Two weeks later, Nolan has made himself indispensable, completely reforming Zack's schedule, life . . . and libido.
But in a company already torn by internal politics, one wrong step could ruin both their careers. And not only are they working to reopen Ringside Gym, Zack's retreat when he was a troubled teen, but they also can't help themselves falling for each other. If only the rest of their lives could go as smoothly as things do when they're alone together.
ISBN: 9781626495210
Product Link: http://riptidepublishing.com/titles/working-it
Reviewer: Aerin
Review: This book had me at the blurb because of my huge weakness for grumpy alpha males with a permanent chip on their shoulder.
Zack was pretty much exactly as I expected, a man with anger issues, lacking social behavior, someone who's feared and hated rather than loved, but also someone with a huge heart and a marshmallow core. Zack's job as a CTO is not something he's ever planned on and it's definitely not something he enjoys, but it allows him to secretly continue his plans to restore and re-open the gym that saved his life as a teen, and to keep alive the memory of the man who helped Zack learn to manage his anger. Ringside Gym is the only thing that Zack cares about, and he'll stop at nothing to rebuild its legacy to offer LGBT teens a safe place to manage their anger issues and blow off some steam.
Nolan Carmichael has been recovering from a severe car accident for the past two years, and he's more than ready to take charge of his life again. Getting a job he's overqualified for is not a problem, as long as he can get past his severe anxiety and panic attacks. PTSD's a bitch, but he's determined to conquer it. His job interview doesn't go exactly as planned, and he ends up becoming the PA of the most feared man in the entire company; Zack's reputation certainly doesn't make Nolan's future with the company very promising.
Nolan and Zack are very different from each other, but they work very well together by complementing each other perfectly. I loved how the budding chemistry made their interactions that much more intense. Despite the odds stacked against them, Nolan and Zack become a pretty strong duo; once they decide the chemistry between them is worth exploring, there are plenty of scorching moments to enjoy. I loved how they each worked to win the other's trust and how they never gave up on each other, not even when things got hard and the odds seemed stacked against them.
I could probably find a few flaws and things to complain about, but I'm content and happy with how this book ended. I hope this series continues with Max's story, because he seems like a pretty important character and I'd love to learn more about him.