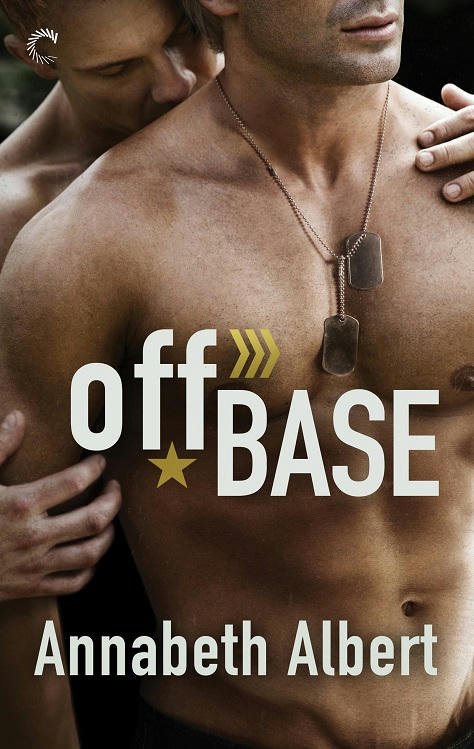 Title: Off Base
Series: Out of Uniform #1
Author: Annabeth Albert
Genre: Military, Contemporary
Length: Novel (304 pages)
Publisher: Carina Press (Jan 9 2017)
Heat Level: Explicit
Heart Rating: ♥♥♥♥ 4 hearts
Blurb: After trading the barracks for a fixer-upper rental, navy SEAL Zack Nelson wants peace, not a roommate—especially not Pike, who sees things about Zack he most wants to hide. Pike's flirting puts virgin Zack on edge. And the questions Pike's arrival would spark from Zack's teammates about his own sexuality? Nope. Not going there. But Zack can't refuse.
Pike Reynolds knows there won't be a warm welcome in his new home. What can he say? He's an acquired taste. But he needs this chance to get his life together. Also, teasing the uptight SEAL will be hella fun. Still, Pike has to tread carefully; he's had his fill of tourists in the past, and he can't risk his heart on another, not even one as hot, as built—and, okay, yeah, as adorable—as Zack.
Living with Pike crumbles Zack's restraint and fuels his curiosity. He discovers how well they fit together in bed…in the shower…in the hallway… He needs Pike more than he could have imagined, yet he doesn't know how to be the man Pike deserves.
ISBN: B01LLPCCMG
Product Link: Amazon | Carina Press
Reviewer: Aerin
Review: A spin-off of the gaymers series with military men? Yes please!!! 
So I'm going to go as far as saying this is probably one of the best books Albert has written so far. It has a ton of intensity and chemistry, the writing is beautiful, the characters are young, inexperienced and sometimes overwhelmed by adulting, but they're not immature. 
I would've given it 5 stars in a heartbeat, if it wasn't for the soul-sucking homophobia present throughout this whole book. We know from the blurb that Zack is a SEAL and we know from day-to-day life that while DADT has been repelled, not all military personnel embrace LGBT people. But the sheer amount of homophobia and homophobic slurs was overwhelming to me. The people that Zack works with every day, the ones that are supposed to have his back in a life or death situation are verbally abusing him any chance they get. Zack's parents, the people that are supposed to love him for who he is are religious nuts that can't even accept the fact that Zack has gay friends, never mind accepting their gay son. 
Zack felt like a lonely person and my heart broke for him; at times I hated his internalized homophobia and his fight to deny who he really is: a gay man. But I couldn't help feel pity for him and for his fear and unwillingness to accept himself.
Pike on the other hand is out and proud, a love them and leave them type. Pike sees Zack for who he is and he knows better than getting involved with a man who can't even accept he's gay. Been there, done that, with nothing to show for it but a broken heart. So Pike contends himself with flirting shamelessly with Zack every chance he gets because he loves to see the man blush and loves to get a rise out of him. 
When circumstances and fate work against them and Pike and Zack find themselves alone in a club, the chemistry between them proves too much to ignore. This is the start of a one-sided relationship that kinda broke my heart as much as I enjoyed seeing it become more. I hurt for Pike and I hated that he chose to accept a relationship on Zack's terms, but knowing this will lead to a HEA made it easier to keep going. I lived for the moments when Zack's feelings for Pike came through, when despite his unwillingness to accept Pike as a boyfriend, Zack made Pike feel like he matters, like what was happening between them meant EVERYTHING to him. 
Of course my favorite subject in this whole book is Zack's sexual education. A virgin SEAL? Good lord dump ice water on me now! A red-head, experienced flirt to educate the innocent SEAL? HELL YES!!! Zack's sexual education was so fucking hot! It was dirty and flirty and intense! It was enthusiastic blow jobs, and filthy rimming and passionate sex! I admit Pike is a wonderful professor and Zack is an accelerated student! Whew! The only thing missing out of Zack's education is bottoming, and I was dying to see that! Dying I tell you! *pouts*
So you see, this book has both bad and good parts to balance each other out, but what I loved the most are the FEELS! When Zack and Pike fall, they fall hard! I loved that their feelings for each other were shown more than spoken. While they both were reluctant to verbalize their feelings, the intensity of their emotions were shown by the author in a way that made me feel them in my gut and left me breathless.
"Kissing Pike always felt like breathing— necessary, important and vital to his well-being— but right then it felt more like a sacrament . Or like super glue instantly sealing their bond together. And that's what this was— a bond."
"Zack kissed him back, and Pike swore he could taste his fear and need and underneath it all, his unwavering affection. Somehow this complicated, confused man had managed to see past all Pike's jokes and flirtation and see who Pike was inside. Why did it have to be you?
"You like me, don't you?" Pike whispered against his lips.
"More than," Zack whispered back. "You. This. Us. It's everything."
Pike didn't trust himself to speak, so he kissed him again, harder this time, biting and sucking at Zack's lips." 
I loved this book, it kept me fully invested from the beginning to the end. But there was just too much homophobia and it took forever for Zack to grow a spine and stand up for himself. I am however so excited about this new series and can't wait to read more! I'm also dying for a chance to read Apollo's story and hopefully get a new happy ending for him and his kids.